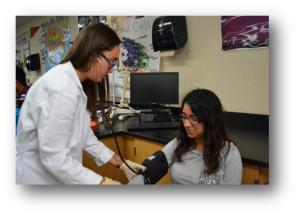 Course Sequence
10th grade
HA English 2
HA World Civilizations
HA Biology Lab
HA Health Science Survey
Math, Language, & PE/Sport or Dance
11th grade
HA English 3
HA US History
HA Physiology
HA Medical Technology
Math, Elective (VPA) and PE/Sport or Dance
12th grade
HA English 4
HA Chemistry
HA Applied Medical English
Math, Government/Economy, Elective (VPA) and PE/Sport or Dance
Please note: All classes that are in BOLD are Health Academy classes.  All UNDERLINED classes are non-Academy courses.  0 period is s requirement of the Academy for all 3 years.  NO exceptions.  Admittance to the Academy requires a commitment for 3 years.
Course Descriptions: 
10th grade
Health Science Survey
This course examines the range of occupations in the medical and health industry.  Guest speakers from local hospitals and medical professionals frequent the class to speak with students about their careers and experiences in the field.  Students will also tour St. John's Hospital in Oxnard.
11th grade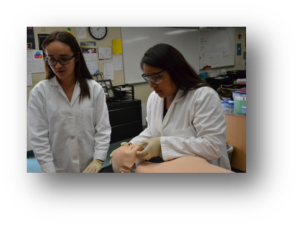 Medical Technology
Topics covered in this course include: Physiology, clinical applications, American Red Cross First Aid, CPR and AED training/certification, Sports Medicine and patient care.
12th grade
Applied Medical English
Is a college and career preparatory course focused on the unification of Public Health and related issues.  Students will be guided in determining the variables affecting how to make an informed decision on a given health care issues, requiring them to determine which actions should be taken from appropriate health care in perspective of: culture, society, family, and individual (as a deliverer or receiver).